WE'RE HERE TO MAKE SAILING MORE COMFORTABLE & MORE FUN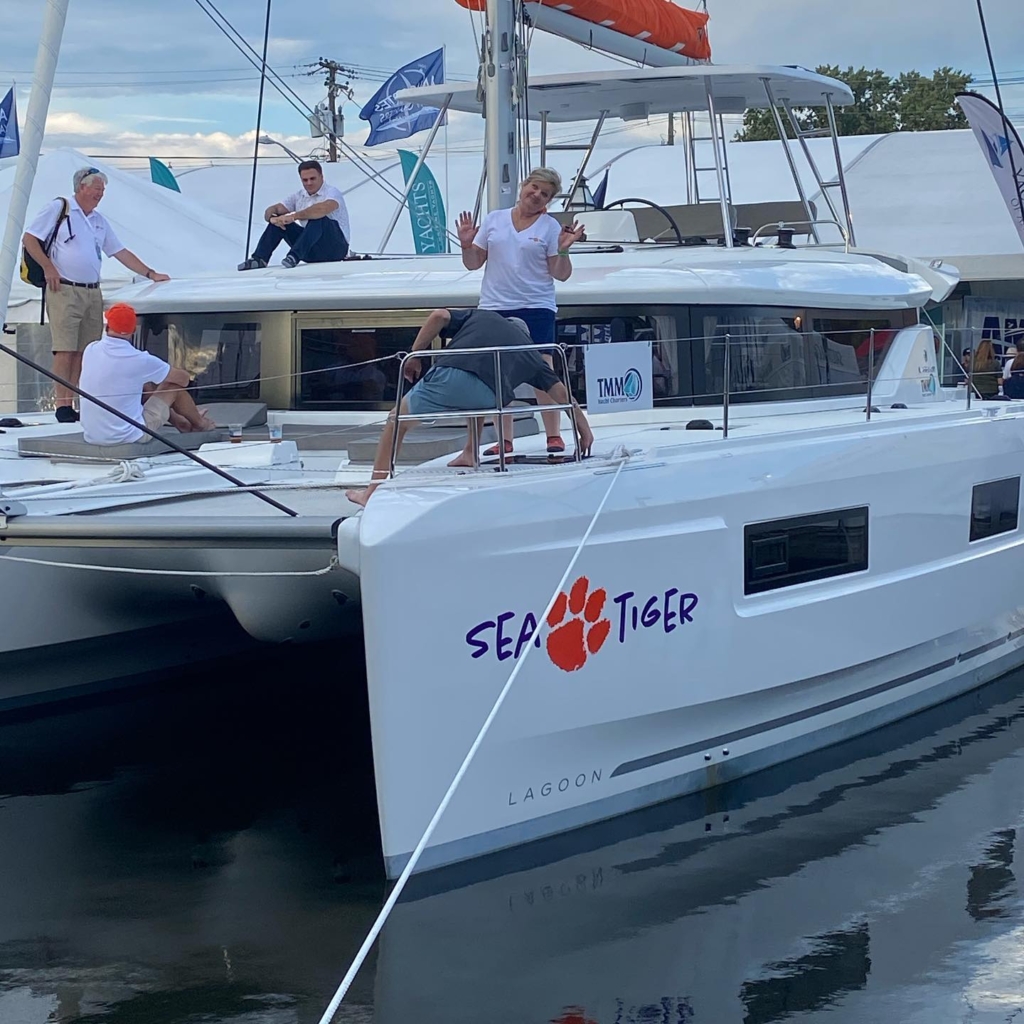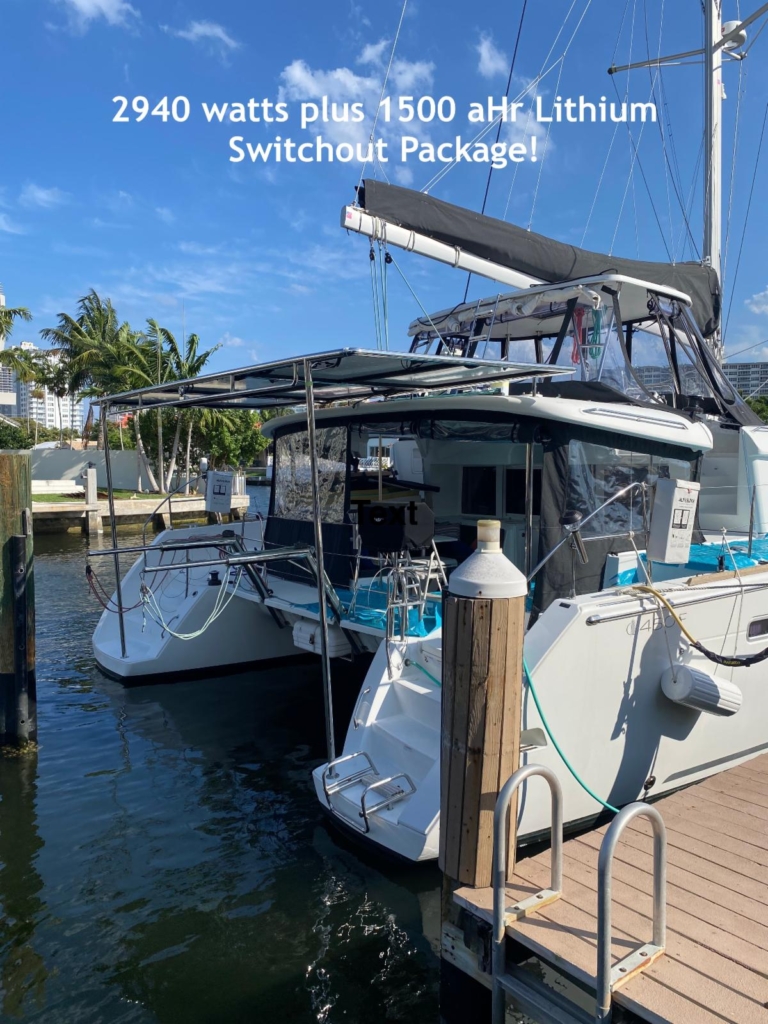 CHECK OUT THE NEW BALI CATSPACE SOLAR HARDTOP & GANTRY!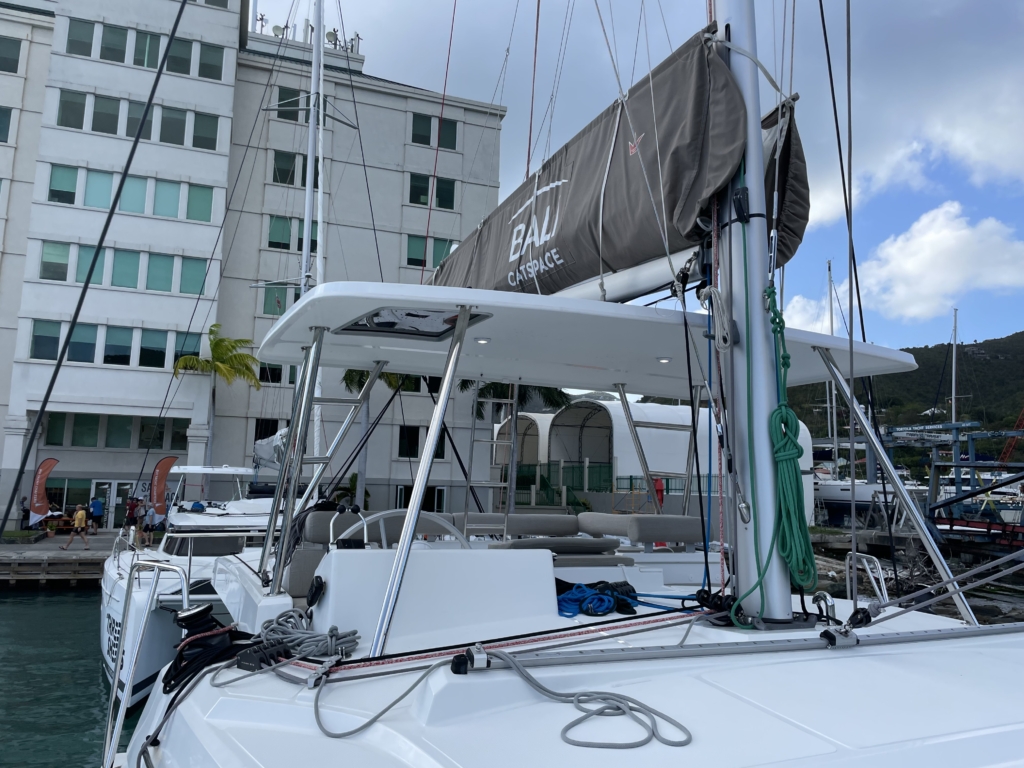 HAPPY TO ANNOUNCE THE LAGOON 46 & 50 HARDTOP - PERFECT FOR MEGA SOLAR. AND OUR LATEST- LAGOON 42 HARDTOP & GANTRY. ADDS TO OUR LAGOON HARDTOP LINEUP FOR THE 450, 440, 410, 400, 380 & 500.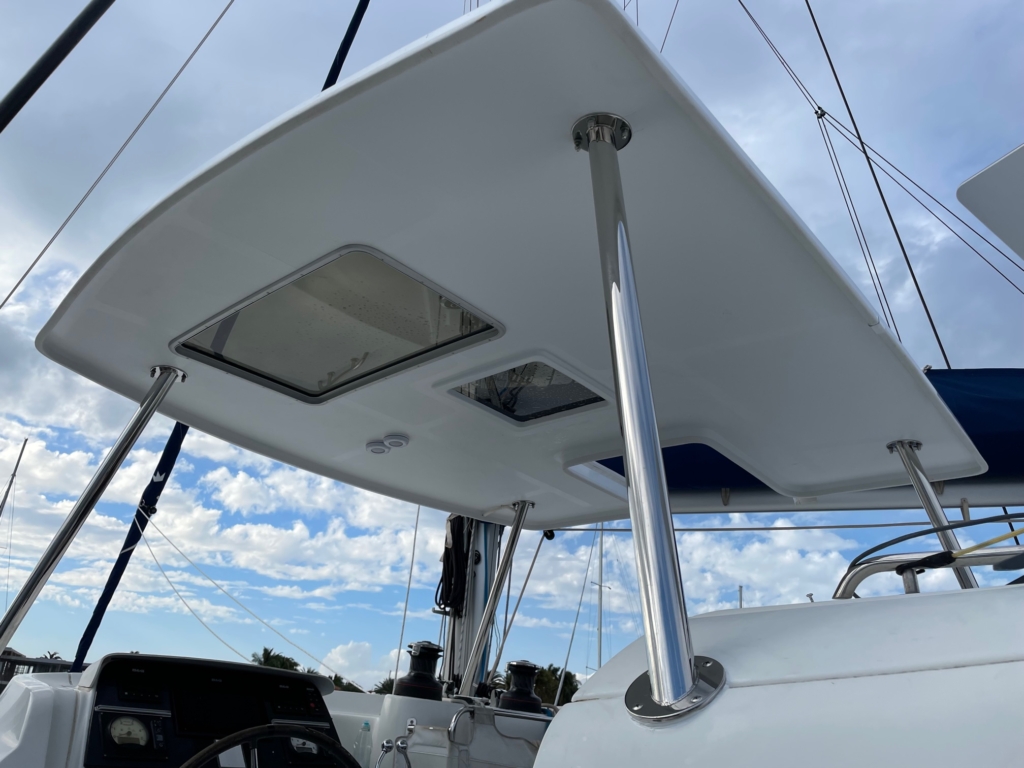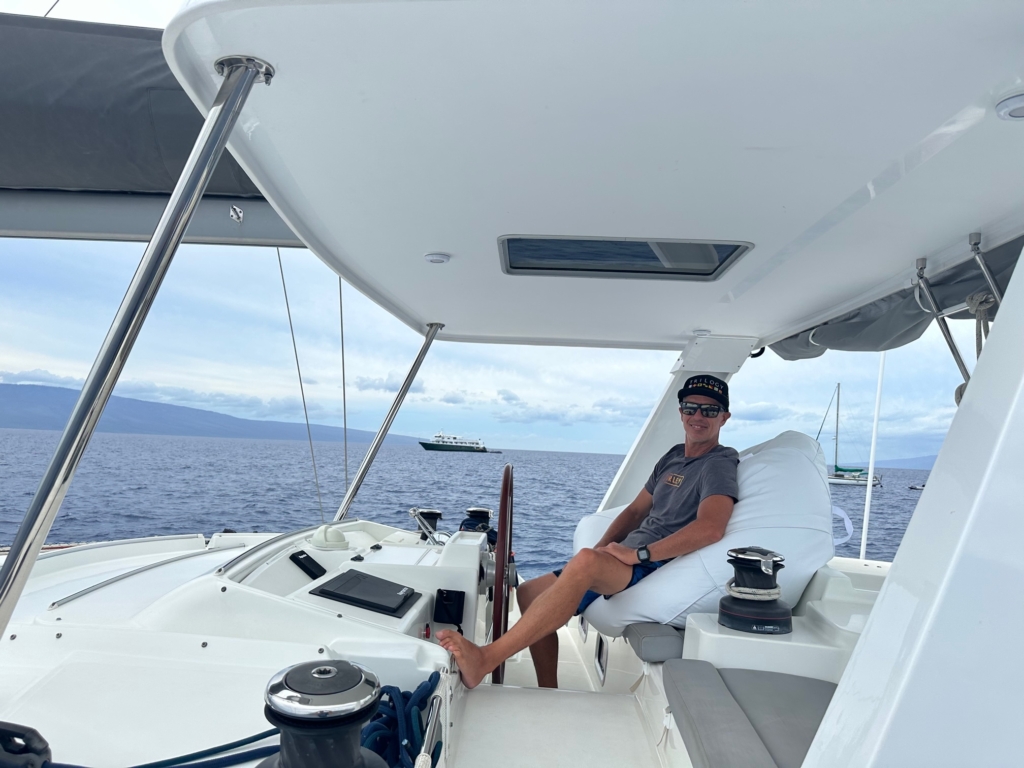 How about a quote? Contact us at info@biminihardtop.com 888-769-7677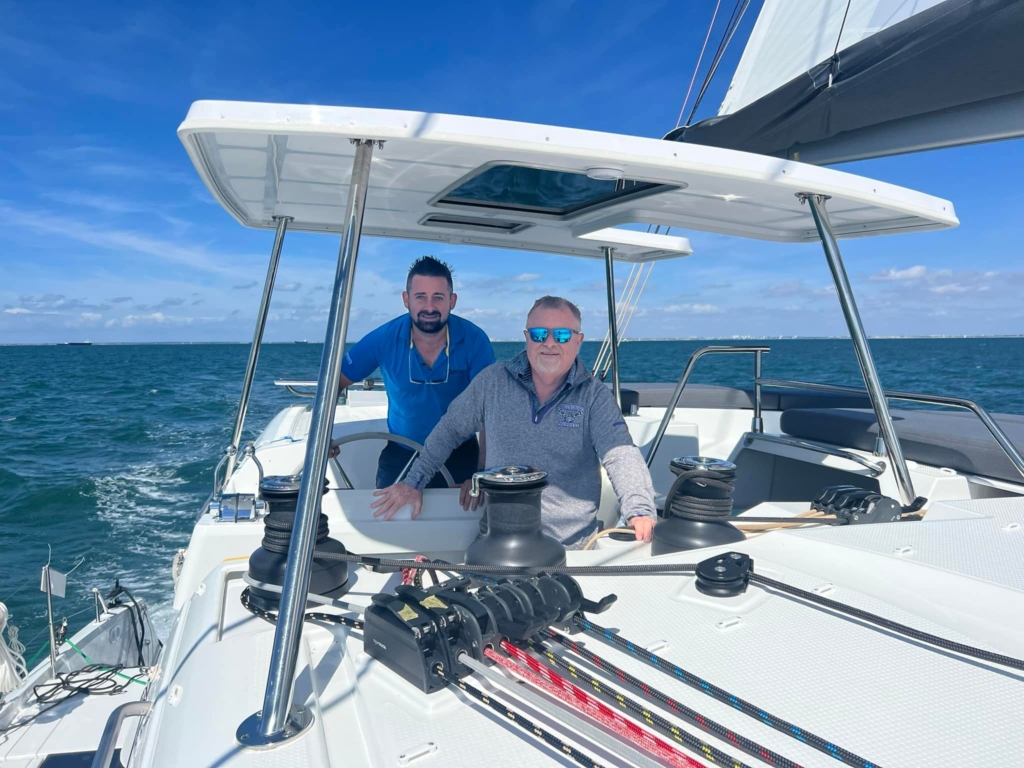 What Our Clients Have To Say….

I have a Dedicated Marine hardtop on my Lagoon 450F based in the BVI – very well made and functional piece of kit that transforms the flybridge experience. Ours was fitted with lights and solar panels and the access to the boom is useful for easily tidying up the main in the stack pack. Overall – a great aftermarket add to the Lagoon 450, I am sure it will be the same for the Lagoon 46! Also, I worked with Chris Spencer again whilst he project managed some post IRMA repairs to my 450 in Florida. What a great guy to work with – one of the best!– Graeme McAvoy, Owner of Lagoon 450F Ariadne

The Lagoon 450F – Access to the Main

Before I bought FreeWill (2018 Lagoon 450F) I'd never sailed a boat where you could not get to the main. Chris Spencer and Dedicated Marine solved that problem!!Tom Barton

How much power does the Solar Gantry put out?

Thought you might be interested to know that the panels on our solar gantry put out 375 watts each yesterday during the mid day sun while running my high load watermaker, fridge/freezer/etc, and recharging the AGM's in bulk mode. This is according to the Victron Bluetooth app.We highly recommend Biminihardtop (Chris Spencer) for quality product and installation at a fair price and no BS like the other catamaran specialty companies in South FloridaThe Sorensens, Lagoon 450S.  1125 watt Solar Gantry

Lagoon Flybridge Hardtop

Yeah cheers for Chris and Dedicated Marine – we have the hardtop on our Lagoon 440 Baja Fog and wouldn't have it any other way!John & Monique Boucher, Lagoon 440 Baja Fog.  Sausalito & Baja California.

What Experts Have to Say: Need A Rigid Hardtop Bimini For Your Catamaran?

Dedicated Marine, Inc. in Fort Lauderdale can custom-make a rigid hardtop catamaran bimini for you!A life-long sailor with solid credentials in boat-building and repair, Chris Spencer recognized a gap in the marine industry for hardtop biminis for catamarans. Most production catamarans do not come with a hardtop bimini or it is a very expensive factory option. So Chris figured out how to fit top quality biminis aftermarket at a reasonable price. He developed a line of hardtop biminis for several popular cruising catamaran brands and models and is now the premier bimini go-to guy.

BENEFITS OF CATAMARAN BIMINI HARDTOPS

Adding a Bimini hardtop to your sailing catamaran offers lots of benefits:

shelter from rain and sun
a safer solid boom access point
a way to install an enclosure
place to install solar panels.

Dedicated Marine offers beautiful ergonomic Bimini Hardtops for Leopard, Lagoon, and Fountaine Pajot catamarans. And manufacturing is right here in the United States. The catamaran biminis superbly fit the lines of your boat and are easily installed.  The aftermarket products are in line with the high quality of the boats. The biminis are designed to enhance the already well-appointed catamarans.Dedicated Marine is popular globally with catamaran owners whether they are readying for for circumnavigation, charter, living aboard, or just some well-deserved limin'. Check them out!Ask about accessories such as aft Phifertex screen and front windscreen. They offer Solar Solutions as well.From Your Guide to All Things Catamaran: the latest on catamaran news, sailing events, buying and selling tips, community happenings, webinars & seminars at www.catamaranguru.com

Happy Lagoon 46 Clients in Australia!

Hi Chris, we officially take possession of our Lagoon 46 tomorrow and saw your Hardtop today and it looks fantastic with the Solar on top. We are so glad we decided to go with yours instead of the factory option. The speakers are incredible. I think you may hear my music from down under. The lights are great also so thank you and the boys (@VesselTec) have done a great job fitting it. We are just incredibly proud of our boat and will happily promote your hardtop. Thanks again! Sonia P.
UPGRADE YOUR CATAMARAN
THE DEDICATED MARINE BIMINI HARDTOP
Experience the enhanced comfort and space provided by a Dedicated Marine Bimini Hardtop, expertly designed to complement the contours and lines of Leopard Catamarans & the Lagoon 380, 400, 410, 440, 450, 500, 46 & 50.
LATEST PROJECTS: Lagoon 46 & 50, Fountaine-Pajot Astrea 42, Saona 47, Elba 45 plus Bali and beyond just catamarans for solar & marine aftermarket requests.

FUNCTIONAL
AMENITIES
Wider coverage athwardship creates more space for weather protection for guests to comfortably sit with Helmsman; sailors will enjoy useful sturdy access to boom; LED lighting, Helmsman's window and Handrails.

HIGHLY
ADAPTIVE
Permits easy adaptation for shades, electronics, "green" technology: customers like the added space afforded for dodgers, speakers and electronics integration, as well as a perfect spot for solar panel mounting.

ATTRACTIVE
TRANSFORMATION
Expertly constructed in appreciation of the original design of the boat. Transforms the Lagoon Flybridge into a "comfortable" skipper zone with 6'4" height clearance.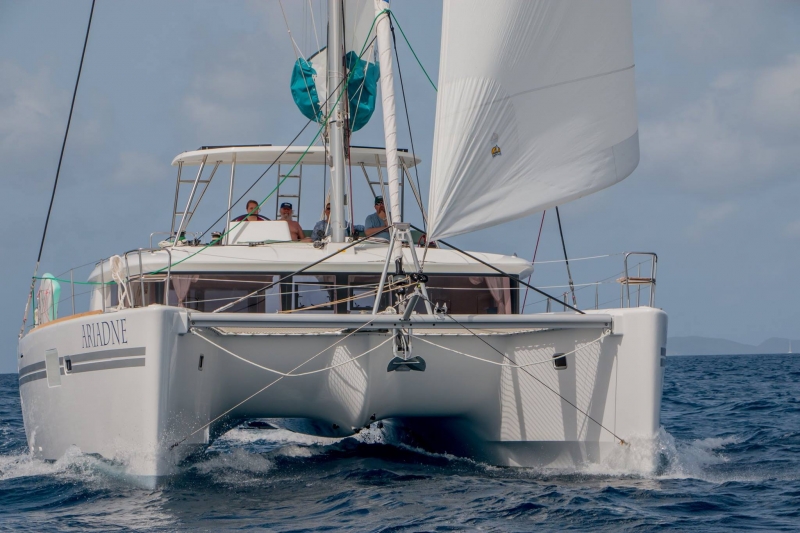 INNOVATIVE
TECHNOLOGY
Only the highest quality materials are used in our composite constructed hard tops and associated products.

CONVENIENT
INSTALLATION
Our Bimini Hard Tops are easily shipped and have been delivered from our base in Florida to locations all over the US, the Caribbean, Europe & Asia. Straightforward instructions can allow for an easy self-installation.

INCREASE
THE VALUE
Not only to your time onboard but to the resale value of your boat. As seen with the increase in number of Hard Tops installed on the Leopard line, a premium is placed across the board on these boats.